Home > Advisory Boards and Honors
Advisory Boards and Honors

Barbara Culliton has been a member of the Board of Advisors of the Institute of Human Virology (IHV) at the University of Maryland, one of the world's leading research centers for the study of AIDS and other virally caused diseases, since its founding in 1996. The Institute of Human Virology is directed by Robert C Gallo, co-discoverer of the AIDS virus.

Barbara Culliton served as president of the Cosmos Club Foundation (2012-2013).

Barbara Culliton was named a member of the National Press Club Silver Owls, for twenty-five years of membership and service.

Dartmouth Medical School. Because of her vast knowledge of science policy, Ms. Culliton was asked to be a member of the Board of Overseers, which dealt with such issues as medical school curriculum, the admission of women and minorities, and the role Dartmouth should play in collaborating with smaller hospitals and physician groups in the northern New England region. (1995-2002)

In 1988, Ms. Culliton became one of the few journalists ever elected to the Institute of Medicine/National Academy of Sciences. An active member of the IOM, she was elected to two consecutive terms on its governing counsel, which guides the Institute's policy studies in medical education and health care.

The Applera Charitable Foundation. The Applera Corporation, which is the parent company of Celera Genomics and Applied Bio Systems, created a foundation to support work in medical education. Ms. Culliton was the Foundation's first President and developed a conference on "Teaching Genetics to Medical Students," which was held at the Harvard Medical School in 2001.

The American Board of Internal Medicine (ABIM) is the professional organization that grants board certification to physicians specializing general internal medicine, and its subspecialty disciplines such as hematology, oncology, and cardiology. In 1995, the Board appointed a unique group of non-physician consultants, including Barbara Culliton, to provide advice on such matters as how frequently physicians should be re-tested in order to maintain their certification. This Board of Advisors played a major role in the ABIM's decision to implement regular re-certification. Ms. Culliton was a member of Board of Advisors from 1995 to 2000.
Other members of the Board included: Alex Capron, law professor at the University of Southern California; Sheldon King, then CEO of Cedars-Sinai Hospital in Los Angeles; Franklin Murphy*, chairman of the Times-Mirror Corporation; Irving Shapiro*, chairman emeritus of DuPont; Eugene Roscow*, former dean of the Yale University School of Law.
*deceased

National Association of Science Writers (NASW) was founded in 1955 to "foster the dissemination of accurate information regarding science through all media normally devoted to informing the public." It has since grown into the largest science journalism association in the country. Ms. Culliton was president of NASW from 1981-1982 and played a significant role in transforming its publication from a mimeographed newsletter to a substantial journalism quarterly, ScienceWriters, which is now widely recognized as the premier source of professional news and information in its field. Ms. Culliton served as Editor, and subsequently as chair of the Advisory Board of ScienceWriters for many years

The Council for the Advancement of Science Writing (CASW) is a group of distinguished journalists and scientists dedicated to improving the public understanding of science through high quality reporting and writing. Barbara Culliton was elected to the CASW board in 1976, one of the youngest reporters to be on the board, and has remained a director ever since. Ms. Culliton was president of CASW from 1988-1989. One of CASW's most well-known and successful programs is its annual New Horizons in Science Briefing--a meeting at which the latest research in all research disciplines is presented to keep journalists abreast of future trends in science.

The National Science Board (NSB), which governs the U.S. National Science Foundation, annually honors those who have advanced science through sustained service in their professions. In 2003, the Board honored the Council for the Advancement of Science Writing, a not-for-profit group of journalists and scientists whose goal is to improve the quality of media reporting. The Board declared that "The awardees have consistently made extraordinary accomplishments toward ensuring that our nation's citizens understand that science and engineering is the stuff of everyday life.... They make science understandable to children and adults listening to radios, reading newspapers, watching news broadcasts, and taking part in hands-on activities." Ms. Culliton has been a member of the CASW's Board since 1976, and was president from 1988 to 1989.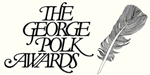 The George Polk Awards, first established in 1949, are one of the most coveted honors in journalism, given to reporters who 'have risked their lives in covering a story, to those who have exposed corruption, crimes, and injustice in city halls and world capitals, and to those who have increased our knowledge and appreciation of the world."
In 1981, the Polk Awards recognized the unique contribution that the News and Comment section of Science magazine makes to the public's understanding of science and the politics that inevitably go with it--from biomedical research to international weapons treaties. As News Editor, Ms. Culliton accepted the Polk Award on behalf of News and Comment for its analytical and insightful reporting on science and science policy.